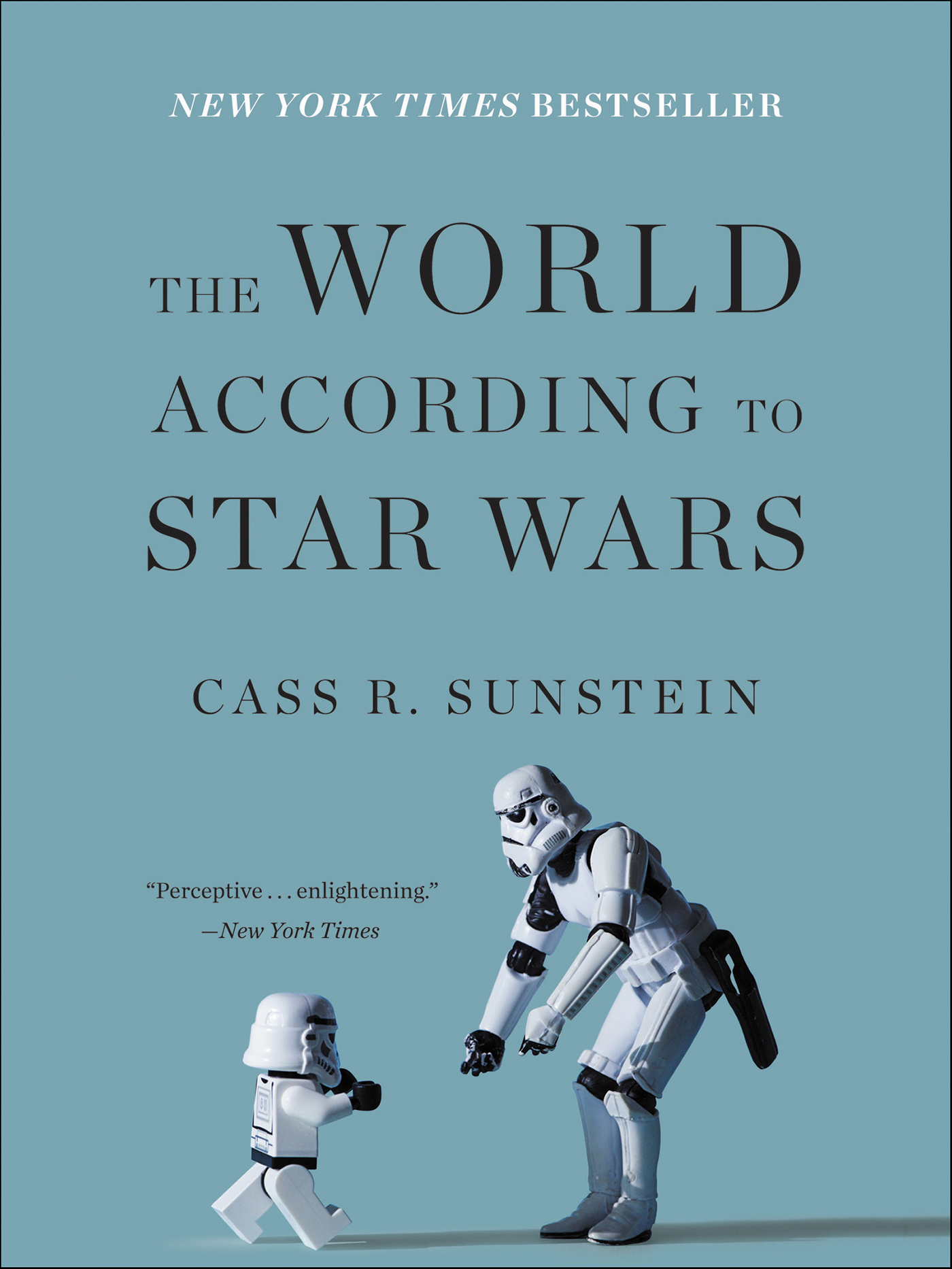 Title:
The World According to Star Wars [electronic resource] :
Author:
Sunstein, Cass R..
Description:
NEW YORK TIMESThe World According to Star Wars shines a bright new light on the most beloved story of our time.
Publisher:
HarperCollins,
Digital Format:
cloudLibrary EPUB
Summary
NEW YORK TIMES BESTSELLER
#1 Washington Post Bestseller
There's Santa Claus, Shakespeare, Mickey Mouse, the Bible, and then there's Star Wars. Nothing quite compares to sitting down with a young child and hearing the sound of John Williams's score as those beloved golden letters fill the screen. In this fun, erudite, and often moving book, Cass R. Sunstein explores the lessons of Star Wars as they relate to childhood, fathers, the Dark Side, rebellion, and redemption. As it turns out, Star Wars also has a lot to teach us about constitutional law, economics, and political uprisings.
In rich detail, Sunstein tells the story of the films' wildly unanticipated success and explores why some things succeed while others fail. Ultimately, Sunstein argues, Star Wars is about freedom of choice and our never-ending ability to make the right decision when the chips are down. Written with buoyant prose and considerable heart, The World According to Star Wars shines a bright new light on the most beloved story of our time.
Author Notes
Cass R. Sunstein is a law professor at Harvard Law School and is the most cited law professor in the United States.
(Bowker Author Biography)
Kirkus Review
An exploration of how Star Wars "illuminates childhood, the complicated relationship between good and evil, rebellions, political change, and constitutional law."Sunstein (Conspiracy Theories and Other Dangerous Ideas, 2014, etc.) is a Harvard law professor and has served as an adviser to President Barack Obama; he is also a Star Wars fanatic. The author offers close readings of the movies, script decisions, their novelizations, and the fan fiction inspired by them, and he inflates it all to mythmaking worthy of Joseph Campbell's scrutiny. "In all of human history, there's never been a phenomenon like Star Wars," writes Sunstein. "Fueled by social media, the whole series has a cult-like following, except that the cult is so large that it transcends the term. It's humanity, just about." Even for those few who lie outside that "just about," this analysis engages with its broader themes about fathers and sons, timeliness and timelessness, destiny and free will, tradition and rebellion, God(s) and mankind. Though the author shows some academic rigor he largely avoids scholarly jargon except for the occasional "Let's try to unpack it." Sunstein is plainly writing for those who are equally invested in Star Wars and who want to learn more about how the franchise came about, why no one envisioned the scope and scale of its success, why it spoke specifically to its times and has continued to resonate, and how it encompasses spiritual, political, and psychological dimensions. What began as something of a homage to Flash Gordon has become, in the author's eyes, a text through which we can decode all the issues of the modern world. "Here are thirteen ways of looking at Star Wars," he writes. "Most of them have plausible sources in the movies. A few of them are nuts but still smartwhich makes them especially interesting." Certainly odd but also smart and interesting. For any student who wants to write a term paper on Star Wars, this book could serve as a rich resource. Copyright Kirkus Reviews, used with permission.
Library Journal Review
Author, political adviser, and law professor (Robert Walmsley Univ. Prof., Harvard Univ.) Sunstein's very accessible new title talks about the history of Star Wars, including how director/creator George Lucas conceived of the idea and what his inspirations were. It's fascinating to read the author's theories of how the series became the phenomenon that it is today, because it was not perceived as a blockbuster when the first movies were released. The book also delves into the various themes of Star Wars-fathers and sons, the hero's journey, rebellion, and freedom of choice. Of course, the mythology invites speculation as well. What is the force? Is Star Wars political? Are there religious themes in the films? Is there feminism? The magic of the movies lies in how they connect different generations, and that love is joyfully celebrated here. Verdict Recommended for those who love reading about Star Wars, George Lucas, sf movies, and stories about the entertainment industry.-Sally Bryant, Pepperdine Univ. Lib., Malibu, CA © Copyright 2016. Library Journals LLC, a wholly owned subsidiary of Media Source, Inc. No redistribution permitted.