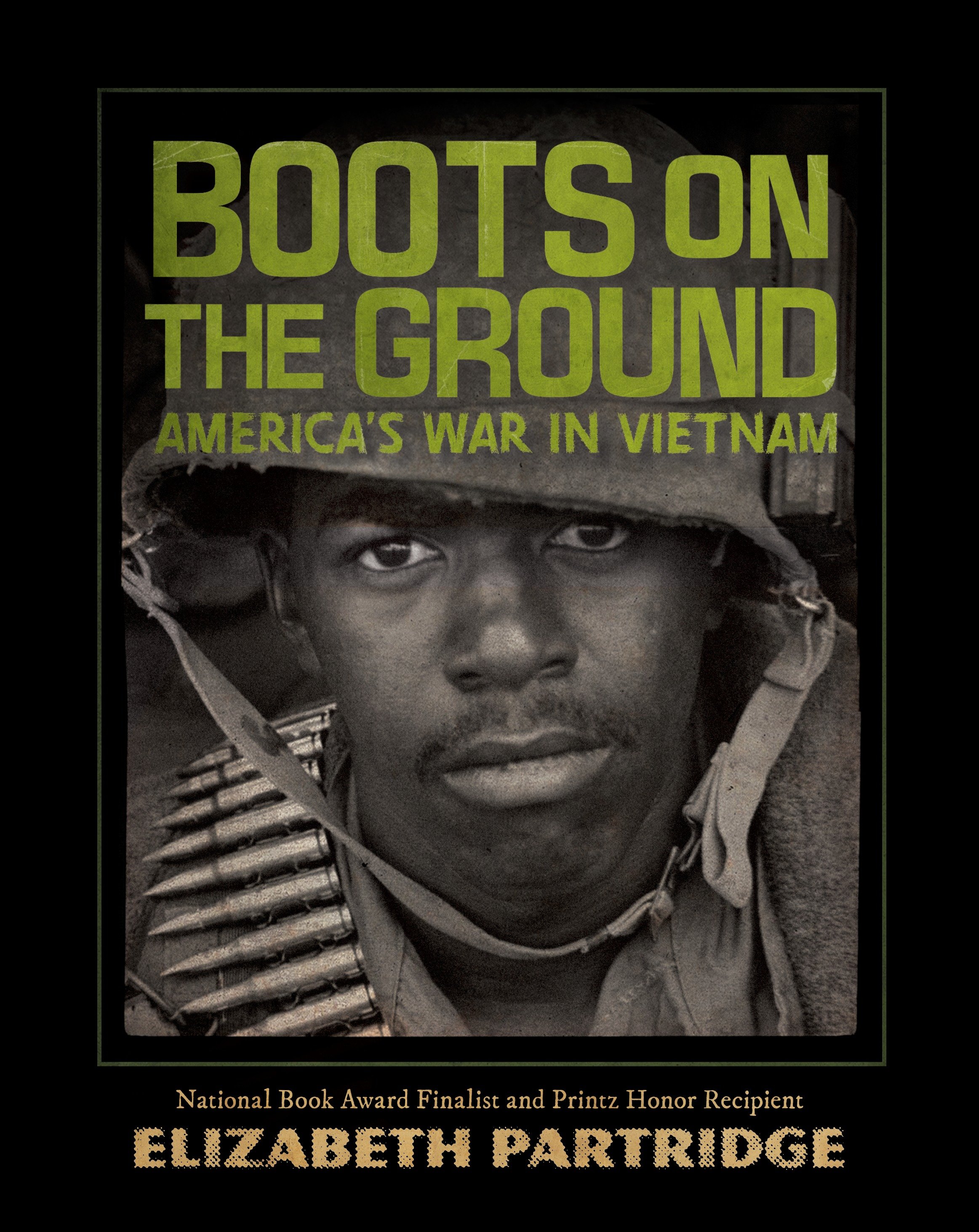 Title:
Boots on the Ground [electronic resource] : America's War in Vietnam
Author:
Partridge, Elizabeth.
Description:
-- Boots on the Ground. With more than one hundred photographs, award-winning author Elizabeth Partridge's unflinching book captures the intensity, frustration, and lasting impacts of one of the most tumultuous periods of American history. *Kirkus Reviews, starred review of Marching for Freedom
Publisher:
Penguin Young Readers Group,
Digital Format:
cloudLibrary EPUB
Summary
★ "Partridge proves once again that nonfiction can be every bit as dramatic as the best fiction."*

America's war in Vietnam. In over a decade of bitter fighting, it claimed the lives of more than 58,000 American soldiers and beleaguered four US presidents. More than forty years after America left Vietnam in defeat in 1975, the war remains controversial and divisive both in the United States and abroad.

The history of this era is complex; the cultural impact extraordinary. But it's the personal stories of eight people--six American soldiers, one American military nurse, and one Vietnamese refugee--that create the heartbeat of Boots on the Ground. From dense jungles and terrifying firefights to chaotic helicopter rescues and harrowing escapes, each individual experience reveals a different facet of the war and moves us forward in time. Alternating with these chapters are profiles of key American leaders and events, reminding us of all that was happening at home during the war, including peace protests, presidential scandals, and veterans' struggles to acclimate to life after Vietnam.

With more than one hundred photographs, award-winning author Elizabeth Partridge's unflinching book captures the intensity, frustration, and lasting impacts of one of the most tumultuous periods of American history.

* Kirkus Reviews, starred review of Marching for Freedom
Author Notes
Elizabeth Partridge is a National Book Award finalist, Printz Honor winner, and author of several nonfiction books for children, including Restless Spirit: The Life and Work of Dorothea Lange ; This Land Was Made for You and Me: The Life and Songs of Woody Guthrie ; John Lennon: All I Want is the Truth ; and Marching for Freedom: Walk Together, Children, and Don't You Grow Weary . She lives in the San Francisco Bay area.
Publisher's Weekly Review
Skillfully interweaving original interviews and black-and-white photos with narrative, Partridge (Marching for Freedom) evokes the political controversy and intense emotions triggered by the Vietnam War. Her spare descriptions of the physical tension between antiwar students and a discharged soldier exemplify the chasm between politicians and protestors, and between career military personnel and troops. Partridge trains a lens on five men who fought on the ground-including a medic, a field nurse, and a Vietnamese refugee. The chronicle vividly brings to light their daily lives, the discrimination some encountered, and their loyalties and moral sensitivity to the war's unending brutality. Interspersed chapters focus on decision-making at the highest level as well as growing antiwar sentiment; a look at the protest songs of Woodstock and Martin Luther King Jr.'s agonized decision to oppose the war fits neatly. Despite her antiwar sympathies, Partridge presents the presidents' positions evenhandedly and elucidates the dilemmas they faced over the course of the war. A profoundly affecting description of the dedication of the Vietnam War Memorial in 1982 concludes these compelling stories. Ages 12-up. (Apr.) © Copyright PWxyz, LLC. All rights reserved.
Horn Book Review
Providing fresh insight into the Vietnam War, Partridge presents the firsthand accounts of seven veterans and one Vietnamese refugee as well as sections focusing on four American presidents; protestors; and Maya Lin, the designer of the Vietnam Veterans Memorial. The stories of Asian American, African American, and female service members are particularly resonant in their revelations of nuances and contradictions in both the civil rights and anti-war movements, and how those conflicts continued at home and abroad. While the audiobook lacks the print books compelling photographs, hearing personal accounts aloud may be just as emotionally powerful. Porters serious, matter-of-fact narration produces a sense that listeners are there with the author on a journey toward a multidimensional understanding of the war. julie hakim azzam March/April 2019 p 110(c) Copyright 2019. The Horn Book, Inc., a wholly owned subsidiary of Media Source, Inc. No redistribution permitted.
Booklist Review
*Starred Review* This fascinating, comprehensive plunge into the Vietnam War finds its heart and soul in six rich, diverse interviews that Partridge conducted with veterans, each of whom recounts their experience with such effortlessness that it's as if they never left the war and, in some ways, perhaps they haven't. Their stories are woven into a sweeping, chronological narrative of the war, which delivers the facts, nicely pitched for the age range, while taking significant looks at notable protesters, politicians, and presidents, whose beliefs and, at times, misguided patriotism dramatically affected America's involvement in the conflict. Partridge is highly conscious of diversity, bringing a wide scope of voices to the table readers will hear from foot soldiers, refugees, medics, singers, Vietnam natives, and memorial creators while constantly alternating the action between the American home front and what's happening on the ground in Vietnam. Partridge excels at interconnecting themes and illustrating connections between the global and the personal, and, along the way, lightly explores PTSD and the mental health effects Vietnam vets suffered, often in silence, after they returned home as scarred men and women. With an impressive amount of well-chosen photographs, this is a necessary, conscientious look at a factious time in American and world history.--Bratt, Jessica Anne Copyright 2018 Booklist
New York Review of Books Review
High school students who led the March for Our Lives this spring are taking the same kinds of risks opponents of the Vietnam War took in their grandparents' day. Today's dissenters are, like their predecessors, tilting at political and corporate windmills to change systems they find abhorrent. Partridge builds bridges to this audience by using the words of Americans who were young at the time of the Vietnam War, and including a wealth of black-and-white photographs that illuminate diverse American experiences. Although some of these images are disturbing, they may reach this visually literate generation in ways other historical sources just can't. Given how politically engaged teenagers are today, a book for them about Vietnam can afford to tilt at a few windmills itself. Partridge, the author of books including "This Land Was Made for You and Me: The Life and Songs of Woody Guthrie," walks readers through the creepy terminology of tactics like the "search and destroy" method, in which American soldiers were told to move through a designated area, locate enemy troops, then "capture or kill them. Success would be measured by body count: the more captured or killed, the closer the Americans and the South Vietnamese were to victory." "Boots on the Ground" accurately represents the Tet offensive of 1968 as a shock to Americans whom officials had repeatedly told that their side was winning, and asks readers to grapple with the bombing and invasion of noncombatant Cambodia. But Partridge omits other facts about Vietnam that run against certain American exceptionalist myths, like the Eisenhower administration's scotching of elections to reunify South and North Vietnam in 1956. This lets her argue that America pursued the war to further democracy. Absent also from this telling is the killing of roughly 500 civilians by American troops in the village of My Lai, and the heroic intervention of Hugh Thompson Jr., who stopped the massacre by threatening to shoot his countrymen if they continued. Given the book's focus on young American troops, Partridge should have discussed organized opposition by veterans, an extraordinary sign of the rethinking then underway of post-World War II ways of being American. Surely, members of Vietnam Veterans Against the War deserve a hearing - if only to help explain a photo in the book of a veteran throwing away his combat medals. Perhaps Partridge or her editors thought a full confrontation with America's behavior in Vietnam was too much for teenage readers. But kids can handle it. I know because I reported from Thailand and Cambodia at 14, traveling with a team of youth and one nominal adult. None of what I saw or read about the war was easy to understand, or to incorporate into ideas I was still forming about my country. I've never regretted that early dunk in the deep end, though, the opportunity to contend with the whole story before I built thick defenses against it. Shouldn't we give all young people a chance to grapple with the whole story, America right and wrong, America as ever great and not so great?
School Library Journal Review
Gr 7 Up-Rather than offering a history of the causes and effects of the Vietnam War, Partridge brings the conflict to a personal level, with accounts of eight men, two women, four U.S. presidents, Martin Luther King Jr., and Maya Lin. Chapter by chapter, the author introduces an unseasoned Marine tasked with life or death decisions, a nonviolent follower of King who fires at the enemy until his machine gun is red hot, and an 18-year-old South Vietnamese woman who must flee the encroaching North Vietnamese Army. Partridge's interviewees all survived their year in-country, but what they saw and participated in haunted them long after. Late chapters on the Vietnam Veterans War Memorial and an epilogue provide closure. Photos of exhausted soldiers, pensive presidents, a helicopter evacuating the wounded, and stacks of coffins add visual immediacy to the emotional stories of young people at war and the protests stateside. Occasional racial slurs and strong language fit the circumstances of their use. VERDICT A stirring choice. Pair with DK/Smithsonian's The Vietnam War: The Definitive Illustrated or portions of the documentary The Vietnam War: A Film by Ken Burns & Lynn Novick for a more complete picture of the war and its surrounding circumstances.-Maggie Knapp, Trinity -Valley School, Fort Worth, TX © Copyright 2018. Library Journals LLC, a wholly owned subsidiary of Media Source, Inc. No redistribution permitted.
Kirkus Review
A personal, moving foray into the Vietnam War and its impact on the country and individuals whose lives it forever changed.Partridge (Dogtag Summer, 2011, etc.) takes readers on a chronological, multidimensional journey through the Vietnam War years via the personal stories of eight individuals: six American soldiers from diverse social and ethnic backgrounds, a biracial (Chinese- and Italian-American) nurse, and a Vietnamese refugee. Each segment moves readers forward in time and is interspersed with brief snapshots of what was happening at home, from glimpses of the American presidents' handling of the escalating crisis to the growing anti-war movement at home, viewed through the lens of leaders such as Martin Luther King Jr. and protest singer Country Joe McDonald. Of particular interest is the segment on the Vietnam Veterans Memorial, a collaboration between veterans, government officials, and its young Chinese-American designer, Maya Lin. Emphasizing the lasting emotional legacy of the war for those who served, even as the rest of the country seemed content to put it behind them, Partridge's narrative storytelling is incisive and masterfully woven together. A superb selection of photographs puts an indelible face on the individuals whose lives the war affected.A valuable complement to existing nonfiction about the Vietnam War for young people, adding an intimate dimension to the larger history. (bibliography, source notes, index, photo credits) (Nonfiction. 12-18) Copyright Kirkus Reviews, used with permission.