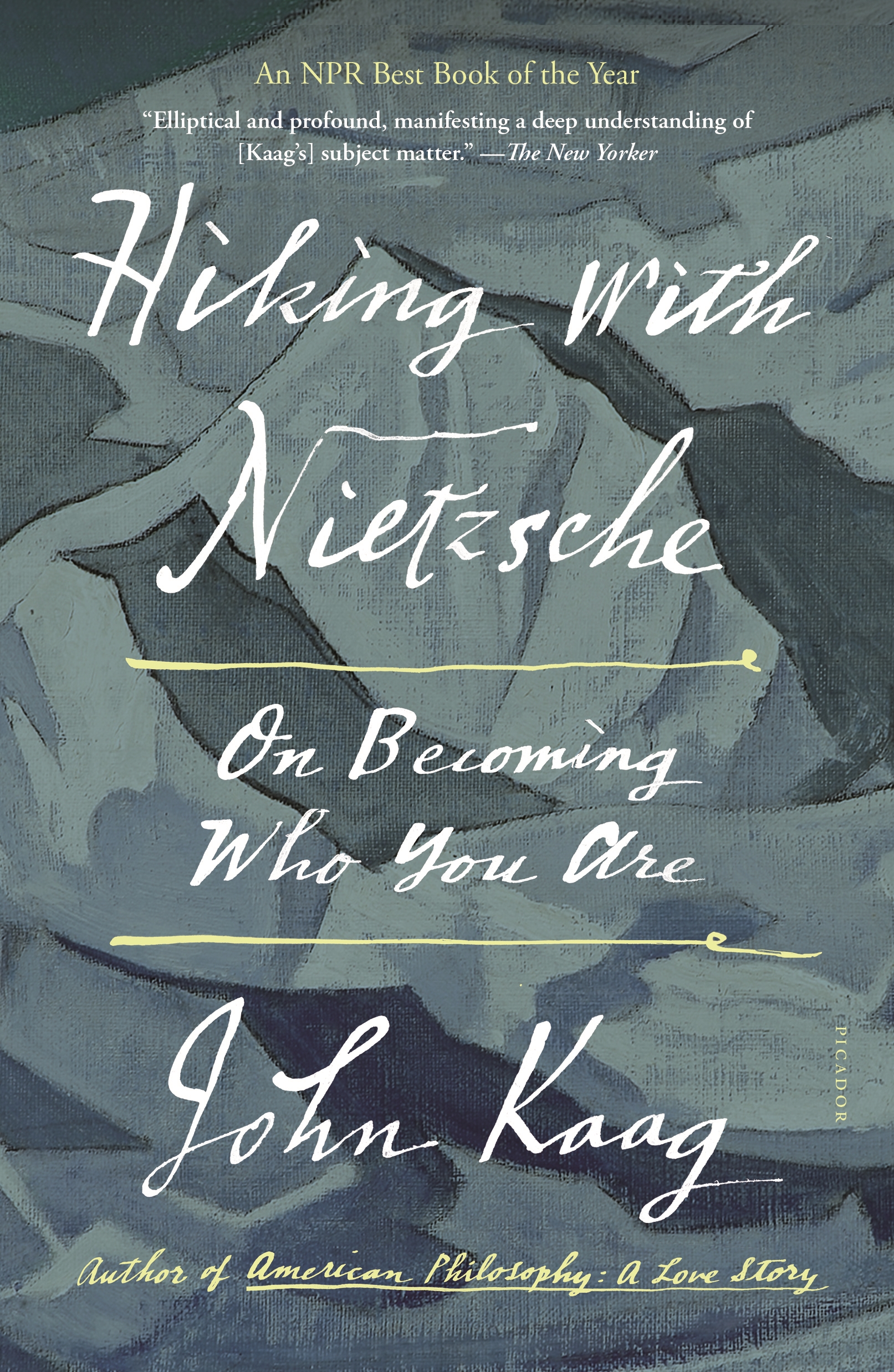 Title:
Hiking with Nietzsche [electronic resource] : On Becoming Who You Are
Description:
"A stimulating book about combating despair and complacency with searching reflection." --Heller McAlpin, NPR.org Named a Best Book of 2018 by NPR. A revelatory Alpine journey in the spirit of the great Romantic thinker Friedrich NietzscheHiking with Nietzsche: Becoming Who You AreHiking with Nietzsche is about defeating complacency, balancing sanity and madness, and coming to grips with the unobtainable. As Kaag hikes, alone or with his family, but always with Nietzsche, he recognizes that even slipping can be instructive. It is in the process of climbing, and through the inevitable missteps, that one has the chance, in Nietzsche's words, to "become who you are."
Publisher:
Farrar, Straus and Giroux,
Digital Format:
cloudLibrary EPUB
Summary
"A stimulating book about combating despair and complacency with searching reflection." --Heller McAlpin, NPR.org

Named a Best Book of 2018 by NPR. One of Lit Hub's 15 Books You Should Read in September and one of Outside 's Best Books of Fall

A revelatory Alpine journey in the spirit of the great Romantic thinker Friedrich Nietzsche

Hiking with Nietzsche: Becoming Who You Are is a tale of two philosophical journeys--one made by John Kaag as an introspective young man of nineteen, the other seventeen years later, in radically different circumstances: he is now a husband and father, and his wife and small child are in tow. Kaag sets off for the Swiss peaks above Sils Maria where Nietzsche wrote his landmark work Thus Spoke Zarathustra . Both of Kaag's journeys are made in search of the wisdom at the core of Nietzsche's philosophy, yet they deliver him to radically different interpretations and, more crucially, revelations about the human condition.
Just as Kaag's acclaimed debut, American Philosophy: A Love Story , seamlessly wove together his philosophical discoveries with his search for meaning, Hiking with Nietzsche is a fascinating exploration not only of Nietzsche's ideals but of how his experience of living relates to us as individuals in the twenty-first century. Bold, intimate, and rich with insight, Hiking with Nietzsche is about defeating complacency, balancing sanity and madness, and coming to grips with the unobtainable. As Kaag hikes, alone or with his family, but always with Nietzsche, he recognizes that even slipping can be instructive. It is in the process of climbing, and through the inevitable missteps, that one has the chance, in Nietzsche's words, to "become who you are."
Author Notes
John Kaag is a professor of philosophy at the University of Massachusetts, Lowell. He is the author of American Philosophy: A Love Story , which was an NPR Best Book of 2016 and a New York Times Editors' Choice. His writing has appeared in The New York Times , Harper's Magazine , The Christian Science Monitor , and many other publications. He lives near Boston with his wife and daughter.
Publisher's Weekly Review
Kaag (American Philosophy: A Love Story) mixes personal reflection and interpretation of Friedrich Nietzsche's thought in this meditative work, framed by two trips to the philosopher's home in Sils-Maria, Switzerland: once, when Kaag was a 19-year-old college student, and then, years later, when he returns as a philosophy professor with wife and child. The work reflects on adulthood and on squaring the notion of the Übermensch with the realities of adult life. Kaag's reading of Nietzsche is tempered with humanity and compassion. Acknowledging that the writer's ideas are controversial, he writes that "even those who disprove them cannot disprove the person behind the scenes," emphasizing the deeply personal source of Nietzschean philosophy. Also thought provoking is this final explication of Nietzsche's maxim, "Become who you are": "Selfhood is made in the active, ongoing process.... The enduring nature of being human is to turn into something else, which should not be confused with going somewhere else." Kaag has crafted a stirring account of a personal encounter with a great mind. Agent: Markus Hoffmann, Regal Hoffman & Assoc. (Oct.) © Copyright PWxyz, LLC. All rights reserved.
Guardian Review
Going through a crisis? Why not head off into the mountains in the footsteps of a great German thinker If Friedrich Nietzsche were alive today, what would he think of our times? "The nations are again drawing away from one another and long to tear one another to pieces," he might observe. "The sciences, pursued without any restraint and in a spirit of the blindest laissez faire, are shattering and dissolving all firmly held belief; the educated classes and states are being swept away by a hugely contemptible money economy. The world has never been more worldly, never poorer in love and goodness ... Everything, contemporary art and science included, serves the coming barbarism." That passage, from one of the philosopher's "Untimely Meditations", was published in 1874 and illustrates the extent to which Nietzsche is always our exact contemporary. The problem with writing books about him, though, is that you just can't compete with the bleak hilarity and glamorous swagger of his prose, and to reduce the wild forest of his thoughts to single propositions in precis is nearly always to traduce him. The American philosophy professor John Kaag tries a different tack, aiming to use Nietzsche as a kind of elevated self-help guru, scattering discussions of the philosopher's life and works through a memoir of the author's own youth and romantic life. This approach is defended early on by the claim that Nietzsche's philosophy "is no mere abstraction. It isn't to be realised from an armchair or the comfort of one's home. One needs to physically rise, stand up, stretch, and set off." It is surprising to see a professional philosopher talking of "mere abstraction" here. Few people today will stand up for abstraction, but it is a keystone of all intellectual endeavour, as Nietzsche himself well knew. "There are epochs," he wrote, "in which the man of reason and the man of intuition stand side by side, the one fearful of intuition, the other filled with scorn for abstraction, the latter as unreasonable as the former is artistic." ( On Truth and Lying in a Non-Moral Sense , 1873.) Abstraction having been thus derided, we set off nonetheless with the author to what you can't get much less abstract than: mountains. Kaag tells us how, as a 19-year-old student, he went hiking in the Swiss Alps just as his philosophical hero had done: "Nietzsche came to the mountains to tread on the edge of the void." Kaag stopped eating and nearly threw himself into a crevasse before coming to his senses. Then, 17 years later, he returns, this time with his wife - also a philosopher, but a Kantian who thinks Nietzsche "a marauding fool" - and their small daughter. Unnecessarily, Kaag takes us through the airport as they set off on their trip, but the interest intensifies as we begin to breathe with his family the purer air of the mountains. They settle into a fine old hotel, and we hear about Nietzsche's love affair with Lou Salomé, and accompany the author on a series of solitary hikes. "Christ, it was a long way to the bottom," he remarks at one point. "Absolute certainty did not live up here." We learn about his trousers and footwear, and there are good expository accounts of the major Nietzschean works, on tragedy, the genealogy of morals and so on. Kaag has a pleasingly wry, compact style, and is particularly interesting on thinkers that Nietzsche influenced heavily: Herman Hesse and Theodor Adorno. The tone becomes more urgently confessional throughout Kaag's book, as it becomes clear he is working through some sort of personal crisis - but if Nietzsche isn't the man you want in a crisis, who is? Here in the Alps in 1881, near a pyramidal rock "6,000 feet beyond man and time", is where he conceived of his most horrifying consolation: the idea of "eternal recurrence". In the dead of night, he explained, a demon might whisper to you: "This life as you now live and have lived it you will have to live once again and innumerable times again; and there will be nothing new in it, but every pain and every joy and every thought and sigh and everything unspeakably small or great in your life must return to you, all in the same succession and sequence - even this spider and this moonlight between the trees." Nietzsche's demand is that you should joyfully embrace such a prospect; indeed, to do so he calls the "highest formula of affirmation". Kaag rather spoils the moment here by reducing this awful existential task to a version of the old metaphysical idea "that the movement of reality is best described in terms of cycles and epicycles". But Nietzsche wasn't making positive claims about the nature of material reality, he was throwing down a gauntlet; and we have still not picked it up.
Kirkus Review
A philosopher's journey into the life, writings, and mountains of Nietzscheand ultimately into himself.Nietzsche makes for a challenging hiking companion, not least for nonfiction writers, who risk having their own stories and prose overshadowed by comparison. Or, to follow this book's central metaphor, it is a challenge, once you set off with him, not to let Nietzsche carry the load. Kaag (Philosophy/Univ. of Massachusetts Lowell; American Philosophy: A Love Story, 2016, etc.) succeeds on this account through his courage to approach Nietzsche, and philosophy in general, from a personaland not just intellectualperspective. This allows Nietzsche to play a supportive role in Kaag's project of becoming. The author follows Nietzsche, for whom the "point of historical study was to enrich the present moment of experience." The philosopher trekked the mountains "to tread on the edge of the void." Kaag's present consists of a return trip to Sils Maria, Switzerland, where he had spent an intense period in his youth hiking, fasting, and reading Nietzsche, this time with his wife and young daughter. At the time, it wasn't clear exactly what he was hoping to find the second time around, but as he wandered the Alps and continued to read Nietzschehe provides helpful summaries and analyseshe approached a significant psychic breaking point. The connection between philosophy and the author's life is not as seamless as it is in American Philosophy, but this is due in part to a difficulty of his subject. More than any other philosopher, Nietzsche asks not to be read as much as confronted. His writing is a challenge to us to become our true selves. That Kaag meets this challenge by determining his own ideals is all the proof needed to confirm that he chose the right companion for his journey.A meditative work full of self-understanding that will resonate with anyone who has ever been drawn toward the void. Copyright Kirkus Reviews, used with permission.
Booklist Review
A serious mountaineer, Kaag negotiates difficult alpine paths by relying on a guide familiar with both intellectual and physical ascents: Friedrich Nietzsche. In this deeply personal narrative, Kaag recounts two mountain journeys under the tutelage of the great German climber and thinker. In the first, a brooding 19-year-old Kaag galvanized by Nietzsche's solitary genius accepts his daunting challenge to confront an inner abyss deeper than any separating the Swiss peaks then surrounding him. He teeters on the brink of suicide before continuing a living discipleship. In the second, a mature Kaag scales Swiss heights accompanied by a wife and daughter whose presence compels him to ponder Nietzsche's perspective on the linkage between love and strife. But to understand this linkage, Kaag must first grapple with Nietzsche's mystifying imperative: Become who you are. Having followed Nietzsche into unbelief, he must climb toward self-knowledge without the divine hope that has sustained self-scrutinizing thinkers such as Pascal, Kierkegaard, and Simone Weil. Fusing intense emotion with unflinching analysis, Kaag invites readers to make philosophy a life-elevating adventure.--Bryce Christensen Copyright 2018 Booklist
New York Review of Books Review
A secret congregation of politicians, religious officials and scientists gathered near midnight on April 14, 2014, in the Holy Cross Church in Warsaw to exhume the heart of Chopin. No press was invited and word of the event did not filter out until five months late. The visitors did not open the crystal jar contained in a coffin inscribed with the composer'sname. But they examined and photographed the enlarged organ inside, which had been pickled, probably in cognac. Later, experts would say a whitish film coating the heart pointed to a death from tu- berculosis with complications from pericarditis. The archbishop of Warsaw blessed the organ before it was reinterred in a stone pillar bearing a verse from Matthew: "For where your treasure is, there your heart will be also." The posthumous reputation of Frederic Chopin (1810-49) stands in stark contrast to his music. A lifelong agnostic, he - or at least his heart - is venerated like a relic in Poland. He never wrote an opera, but in his afterlife he continues to throw up scenes of high drama. In his works - almost all for piano - he dispensed with the programmatic titles that many 19th-century composers used to evoke fairy-tale landscapes and picaresque quests. Yet almost from the moment Chopin died, in Paris, legends attached themselves to his name like ivy. There was the handful of Polish soil Chopin was supposed to have hoarded so it could be scattered over his coffin. A forged diary made the rounds. Priapic letters, addressed to a licentious countess, inflamed scholarly minds until Polish criminologists debunked them as fabrications. Even while alive he became a thinly fictionalized character in a novel by George Sand, his partner of nine years. For a biographer, there's a lot to untangle. Alan Walker does so brilliantly in "Fryderyk Chopin: A Life and Times," a magisterial portrait of a composer who fascinated and puzzled contemporaries and whose music came to define the Romantic piano. (Walker uses the Polish variant of the first name.) Drawing on a wealth of letters and fresh scholarship, Walker creates a polyphonic work that elegantly interweaves multiple strands. He sketches key events in the history of Poland and portrays the burgeoning society of Polish exiles in Paris in a way that lends depth to Chopin's oft-cited patriotism. Chopin left Poland just before the Warsaw Uprising in 1830. The bittersweet pathos that would infuse so many of his compositions based on Polish dances - the mazurkas and polonaises - here appears as the musical expression of survivor's guilt. Another thread that runs brightly through the book concerns virtuosity, and Chopin's place in a music scene dominated by stage animals. This was, after all, the age of the devilishly gifted violinist Paganini and of piano wizards with outsize egos that divided critics and fans. With the exception of Liszt their names - Alkan, Dreyschock, Kalkbrenner, Thalberg and many others - have long been forgotten. But it was in opposition to these acrobats of the keyboard that contemporaries experienced Chopin's playing. Although gifted with prodigious techñique, Chopin stood outside the "flying trapeze school" of pianism. "1 really don't know whether any place contains more pianists than Paris, or whether you can find anywhere more asses and virtuosos," he wrote in a letter that makes his views on the matter clear. "Is there a difference?" Illness is a recurring motif that shaped Chopin's career before cutting it short. Squeamish readers may blanch at the amount of blood-flecked sputum the tubercular Chopin coughs up on the page, and at the procession of doctors with their leeches and milk diets. Unintentional damage came from well-meaning women, ft was Sand who organized the creative retreat on an unexpectedly rain-sodden Majorca that weakened Chopin. Years later in 1848, a wealthy amateur pianist, Jane Stirling, led Chopin on a tour of England and Scotland that so exhausted the composer - ill and weighing some 95 pounds - that servants had to carry him from room to room. There's romance, too - or at least the suggestion of it. Curiously it is here that Walker seems the least confident. The problem begins early, with teenage letters Chopin wrote to a male friend who had been a boarder at the school Chopin's father ran in Warsaw. "Give me your lips, dearest lover. I'm convinced you still love me, and 1 am as scared of you as ever," one missive reads. And: "Today you will dream that you are embracing me! You have to pay for the nightmare you caused me last night!" This episode brings on a bout of handwringing in Walker, who allows for the possibility of a "passing homosexual affair" between the two men but considers it "far more likely" that Chopin's fervent letters were the result of "psychological confusion." Around the same time Chopin had fallen under the spell of the mezzo-soprano Konstancja Gladkowska - feelings that Walker thinks Chopin transferred onto his best friend. Chopin would be romantically linked with other women but his only lasting relationship was with the trouser-wearing, cigar-smoking George Sand. For most of its nine years their relationship was conducted in separate bedrooms, their lack of relations an open secret. Walker is probably right when he speculates that the gaunt Chopin, who erupted in coughing fits at the slightest exertion, wasn't much fun in bed. But it surely seems plausible, too, that his relationship with Sand devolved into platonic companionship because Chopin just wasn't wired that way. Whatever its physical foundation, the odd symbiosis between Sand and Chopin makes for some of the most novelistic and colorful chapters in the book. Much of the time the two artists were like ships passing in the night, Sand emerging from her writing vigils "like a bat coming out of its cave blinking in the sunlight," as Balzac put it, just as Chopin had his morning cup of chocolate and prepared to get down to work. It seems as if many of their most meaningful interactions occurred in her salon in front of an audience of gossipmongers. Fastidious, aloof and touchy, Chopin kept even friends at arm's length. But he was also capable of reducing them to tears with comic impersonations at the piano and his letters show up his caustic wit. Walker offers insightful comments on some of his most important compositions with their pianistic innovations and expressive elegance. But while Chopin's music opens up emotional worlds it spells out nothing. THE ENDURING FASCINATION of Chopinian relics is also the subject of a shorter book by Paul Kildea. In his highly readable if disjointed CHOPIN'S PIANO: In Search of the Instrument That Transformed Music (Norton, $27.95), Kiidea, a conductor and writer, takes on the fate of a humble upright piano on which Chopin composed many of his groundbreaking Preludes during his fateful sojourn on Majorca. As Walker shows in his biography, Chopin cared deeply about instruments to the point of identifying with them. (In a despondent letter from Scotland he compared himself to an old cembalo.) This piano, built by a Majorcan craftsman, gave Chopin "more vexation than consolation," according to George Sand. But it drew some of the most forwardlooking music from him. In 1911 the brilliant harpsichord pioneer Wanda Landowska discovered the piano languishing in the same drafty monastery where Chopin and Sand had stayed. Her effort to bring it to Berlin, its seizure by Nazi officers during World War II and its subsequent odyssey once again show the uncanny ability of Chopin to write operas - posthumously. Chopin was capable of reducing friends to tears with comic impersonations at the piano. CORINNA DA FONSECA-WOLLHEIM is a contributing music critic for The Times.
Library Journal Review
This latest from Kaag (philosophy, Univ. of Massachusetts, Lowell; American Philosophy: A Love Story) is part philosophy memoir, part overview of Friedrich -Nietzsche's philosophy. The book covers hikes Kaag took in Europe that retraced some of -ietzsche's possible walks, first when Kaag was alone as a young philosophy student and later as a husband and father accompanied by his wife and young daughter. These later journeys allow him to rediscover Nietzsche's life and ideas from a different perspective and place in his own life while also explaining the development and growth of the philosopher. The last chapter, titled "Becoming Who You Are," is fantastic in the way it weaves Nietzsche's philosophy with what Kaag experienced on his walks as an adult. VERDICT A wonderful introduction to Nietzsche set against the unique backdrop of the landscape and cities he experienced. The tone and writing style make it accessible to general readers, while the content will reward those familiar with Nietzsche as well.-Scott Duimstra, Capital Area Dist. Lib., Lansing, MI © Copyright 2018. Library Journals LLC, a wholly owned subsidiary of Media Source, Inc. No redistribution permitted.