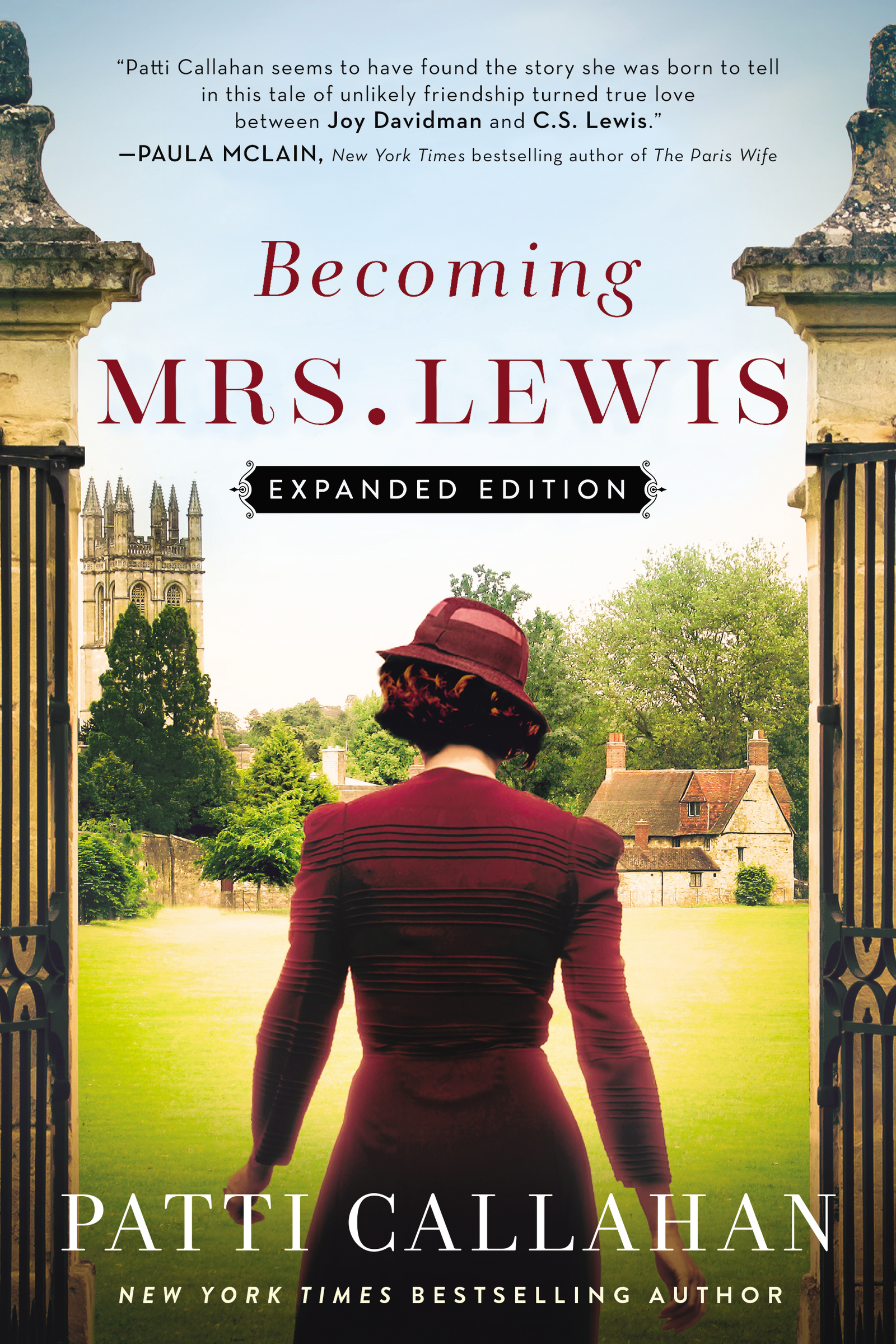 Title:
Becoming Mrs. Lewis [electronic resource] : The Improbable Love Story of Joy Davidman and C. S. Lewis
Description:
Now a USA TODAY Becoming Mrs. LewisNew York TimesNew York TimesThe Dream Daughter
Publisher:
Thomas Nelson,
Digital Format:
cloudLibrary PDF
Summary
Now a USA TODAY and Publishers Weekly bestseller!
"Patti Callahan seems to have found the story she was born to tell in this tale of unlikely friendship turned true love between Joy Davidman and C. S. Lewis, that tests the bounds of faith and radically alters both of their lives. Their connection comes to life in Callahan's expert hands, revealing a connection so persuasive and affecting, we wonder if there's another like it in history. Luminous and penetrating." --Paula McLain, New York Times bestselling author of The Paris Wife
In a most improbable friendship, she found love. In a world where women were silenced, she found her voice.
From New York Times bestselling author Patti Callahan comes an exquisite novel of Joy Davidman, the woman C. S. Lewis called "my whole world." When poet and writer Joy Davidman began writing letters to C. S. Lewis--known as Jack--she was looking for spiritual answers, not love. Love, after all, wasn't holding together her crumbling marriage. Everything about New Yorker Joy seemed ill-matched for an Oxford don and the beloved writer of Narnia, yet their minds bonded over their letters. Embarking on the adventure of her life, Joy traveled from America to England and back again, facing heartbreak and poverty, discovering friendship and faith, and against all odds, finding a love that even the threat of death couldn't destroy.
In this masterful exploration of one of the greatest love stories of modern times, we meet a brilliant writer, a fiercely independent mother, and a passionate woman who changed the life of this respected author and inspired books that still enchant us and change us. Joy lived at a time when women weren't meant to have a voice--and yet her love for Jack gave them both voices they didn't know they had.
At once a fascinating historical novel and a glimpse into a writer's life, Becoming Mrs. Lewis is above all a love story--a love of literature and ideas and a love between a husband and wife that, in the end, was not impossible at all.
"Patti Callahan Henry breathes wondrous fresh life into one of the greatest literary love stories of all time . . . The result is a deeply moving story about love and loss that is transformative and magical." --Pam Jenoff, New York Times bestselling author of The Orphan's Tale
"I was swept along, filled with hope, and entirely beguiled, not only by the life lived behind the veil of C. S. Lewis's books but also by the woman who won his heart. A literary treasure from first page to last." --Lisa Wingate, New York Times bestselling author of Before We Were Yours
"Profoundly evocative, revealing an intimate view of a woman whose love and story had never been fully told . . . until now . . . Becoming Mrs. Lewis is a tour de force and the must-read of the season!" --Mary Alice Monroe, New York Times bestselling author of Beach House Reunion
"Patti Callahan somehow inhabits Davidman, taking her readers inside the writer's hungry mind and heart. We keenly feel Davidman's struggle to become her own person at a time (the 1950s) when women had few options . . . An astonishing work of biographical fiction." --Lynn Cullen, bestselling author of Mrs. Poe
"Patti Callahan breathes life into this fascinating woman whose hunger for knowledge leads her to buck tradition at every turn." --Diane Chamberlain, New York Times bestselling author of The Dream Daughter
Publisher's Weekly Review
Callahan (The Bookshop at Water's End) vividly enters the life of a woman searching for both God and romantic love in this pleasing historical novel about writer and poet Joy Davidman. In 1946, Joy lives in Ossining, N.Y., with her alcoholic husband, Bill Gresham, and her two small sons. In a moment of desperation, she prays to a God she doesn't believe in and experiences feeling "fully known and loved." Three years later, now deeply considering Christianity, she writes to Christian apologist C.S. Lewis with her questions about God. He responds, beginning a long-term correspondence in which Joy finds "peace, connection, and intellectual intimacy." By 1952, she wants to leave her unfaithful, abusive husband, but sees no way out. She does manage to take a much-needed physical and mental respite, heading to England for six months and falling in love with both England and Lewis; her only regret is leaving behind her sons. But, even after Bill and Joy divorce, Lewis at first keeps their relationship platonic, and Joy must search for true love and fulfillment through her relationship with God. Making full use of historical documentation, Callahan has created an incredible portrait of a complex woman. (Oct.) © Copyright PWxyz, LLC. All rights reserved.
Booklist Review
Behind every great man is a great woman, as the saying goes, and for acclaimed author C.S. Lewis, that woman was writer Joy Davidman. Callahan (The Bookshop at Water's End, as Patti Callahan Henry, 2017) brings to life the friendship turned romance between the two. Worn down by motherhood and marriage to an alcoholic, committed atheist Davidman, in the middle of a dark night, falls to her knees and prays to God for the first time. Despite the confidence of her spiritual awakening, there were questions for this atheist turned Christian. When a friend suggests that Joy write to Lewis, a mutual acquaintance, a correspondence begins that will change Joy's life. Readers familiar with the life and work of C.S. Lewis will relish learning about the woman who inspired some of his most famous books. Others will find the slow burn of the romance between the two mesmerizing. All fans of women's fiction, particularly works with religious themes, will appreciate reading about this vibrant and intelligent woman.--LynnDee Wathen Copyright 2018 Booklist
Library Journal Review
This meticulously researched and beautifully written historical fiction recounts the relationship and marriage between noted poet Joy Davidman and the incomparable C.S. Lewis, renowned theologian and author of the beloved "Chronicles of Narnia" series. The story takes place over the relatively short time span of the 1950s, encompassing Davidman's first letters to Lewis and culminating in her early death from cancer, providing insight into the theology, spiritualism, and intellectualism of the times accompanied by healthy portions of Davidman's and Lewis's everyday trials and joys. A strong underlying theme demonstrates the influence of Davidman (and many women of that time) on the men they loved and lived for. Understated and eloquent narration by Lauren Woodward complements the story. There is certainly a sentimental bent, but the writing and narration curb listeners' tears. VERDICT Listeners will wish to return to Lewis's writings (theological and children's literature) and will certainly wish to savor Davidman's works including the elegant sonnets that precede the chapters. ["Callahan's writing is riveting and her characters spring to life to create a magical and literary experience that won't soon be forgotten": LJ 9/15/18 starred review of the Thomas Nelson hc.]-Sandra C. Clariday, Cleveland, TN © Copyright 2018. Library Journals LLC, a wholly owned subsidiary of Media Source, Inc. No redistribution permitted.