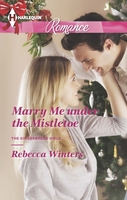 Title:
Marry Me under the Mistletoe
Description:
When you wish upon a star...After single dad Rick Jenner and his little daughter stumble upon Andrea Fleming's toy shop one snowy evening, he can't get Andrea's beautiful eyes out of his head. But with Christmas coming up, he can't afford any distractions.Andrea is no stranger to heartache, and Rick has it written all over his face. Her head tells her to stay away, but nevertheless she is irresistibly drawn to this twosome in need of a miracle.With a few festive sparks, a little girl's yuletide delight and a toe-curling kiss under the mistletoe...this Christmas, anything could happen!
Publisher:
Harlequin
Harlequin Romance
Digital Format:
Adobe EPUB
HTML
Kindle
Summary
When you wish upon a star...

After single dad Rick Jenner and his little daughter stumble upon Andrea Fleming's toy shop one snowy evening, he can't get Andrea's beautiful eyes out of his head. But with Christmas coming up, he can't afford any distractions.

Andrea is no stranger to heartache, and Rick has it written all over his face. Her head tells her to stay away, but nevertheless she is irresistibly drawn to this twosome in need of a miracle.

With a few festive sparks, a little girl's yuletide delight and a toe-curling kiss under the mistletoe...this Christmas, anything could happen!
Author Notes
Rebecca Winters attended bording school in Lausanne, Switzerland at the age of 17, where she learned to speak French and met girls from all over the world. Upon returning to the U.S., Winters developed her love of languages when she earned a B.A. in secondary education, history, French, and Spanish from the University of Utah and did postgraduate work in Arabic.
Because of her studies overseas, Winters decided to become a teacher and studied French and history in Utah. For the past 15 years, she's taught junior-high and high-school French and history. Winters' first novel was published in 1978. It was called By Love Divided, and published under the name Rebecca Burton. As soon as she finished that novel, she started another novel entitled The Loving Season. A few years later, Harlequin bought Blind to Love, a story that takes place in Kenya.
Winters has won the National Readers' Choice Award, the Romantic Times Reviewers' Choice Award, and has been named Utah Writer of the Year. She was winner of the January 2001 Romantic Times Magazine WISH Hero award to Alik Jarman for His Very Own, a finalist in the National Readers' Choice Award in the traditional category to be announced during the National RWA Convention in July of 2001 for The Faithful Bride, she won a B Dalton Award, made the Waldenbooks Bestseller Lists, has won mutiple awards from the Romantic Times Reviewer's Choice, as well as being a Romantic Times Career Achievement Nominee and winning First Place in the National Reader's Choice Awards. Winters was also crowned Utah Writer of the Year.
She is working her way toward her 50th novel for Harlequin.
(Bowker Author Biography)
Excerpts
Just two weeks until Christmas and so-o much to do. The latest merchandise from suppliers needed to be put in the window. The Hansel and Gretel shop located on Lemon Street in downtown Providence, Rhode Island, was a favorite place all year long for customers wanting imported hand-painted wooden gifts, nutcrackers, little girls' Bavarian dirndls and little boys' Tyrolean hats. But especially at Christmas. Andrea Fleming finished her morning coffee, then quickly dressed in a navy wool skirt and a long-sleeved navy pullover with Snoopy on the front wearing a Santa's hat. After running a brush through her shoulder-length gilt-blond hair, she slipped into her comfortable wedgies and hurried downstairs to the shop below. She'd been living here since her husband's death fourteen months ago. They'd been married only three weeks and had been staying with his parents in Braunschweig, Germany, when they'd been in a car accident and he was killed outright. She'd survived, but had been forced to stay in hospital following an operation. Her mother had been there to help her recover enough so that she could board a plane. When she returned home it was without her husband and no hope of ever having children. Though her divorced mom wanted Andrea to live at home with her, she'd preferred to renovate the loft above the shop so she could stay there. She felt closer to Gunter somehow in the store she'd always felt was enchanted. She'd been twenty-three when he'd first brought merchandise to her family's store in place of his father. His grandparents were the original creators of the world-famous Braunschweig nutcrackers and wooden pyramids. His dark blond good looks and blue eyes had captivated her and they'd fallen in love. Within the year they were married. They'd had a wedding reception here in Providence with all her family and friends. His family had held another one for them in Germany. It had been a picture-perfect wedding for both sets of families. No one could have foreseen the crash that took Andrea's husband. In one moment she'd lost him as well as her ability to conceive. Never would she have a child with him. Never would she have a child of her own body. A sob escaped her. Don't dwell on that right now, Andrea. After checking the thermostat to make sure the shop was warm enough, she walked out back to start unpacking the boxes from their suppliers that had arrived yesterday afternoon. In the first one she discovered an exquisitely made Braunschweig wooden rocking chair and put the price tag on it. Without hesitation she carried it through the shop to the window and set it next to the decorated Christmas tree that was part of the Santa's workshop display. The chair needed something special. She had dozens of dolls, floppy elves and Christmas angels. Any one of them would look cute sitting in it. She would have to think about it while she finished unpacking. "Oh!" she cried when she opened the last box and found a three-foot-tall gingerbread boy. It was made of dark chocolate-colored dotted Swiss fabric. A red, green and gold plaid ribbon was tied around his neck at a jaunty angle with a little golden bell hanging down. He had large, shiny blue buttons for eyes, round pink felt cheeks and an impish smiley mouth done in red ribbon as if to say, "You can run and run as fast as you can, but you can't catch me. I'm the gingerbread man." The body was outlined in white bric-a-brac trim. "You're so perfect I can't believe it!" She attached the price tag to it. "If Gunter hadn't had that accident, we'd have a little boy or girl who would love you as much as I do." Tears stung her eyes as sorrow overwhelmed her. Surrounded by many items meant for a child, she knew this shop was a constant reminder of her loss. But the store was also a family treasure and legacy she loved, and of course there was the comfort and joy of working alongside her mother, who'd done everything to help her overcome her grief. Andrea thought she'd been doing a little better, but for some reason this gingerbread man spoke to her inner heart. It was at bittersweet times like this that she had to fight against succumbing to the terrible pain of knowing she'd never have her own baby. Though her mom gently reminded her that one day she'd meet another man and there was always adoption, Andrea couldn't imagine it. What man, when given a choice, would want an infertile widow? After hugging the gingerbread man to her chest until the painful moment passed, she walked over to the window and placed it in the new chair. Once she'd added the latest set of nutcrackers from the Bavarian kings collection to the others, she flipped the switch on the wall and the window display came alive with colored lights and sounds. On the floor around the tree loaded with wooden ornaments she'd placed an animated elf band with drums, cymbals and horns. Children and adults alike always stopped to watch their antics. Usually it brought people inside to buy an identical set and they ended up going home with more gifts. On impulse she pulled the smartphone from her pocket and stepped inside the display area to take a couple of pictures. Wait till she sent them to the gingerbread girls. That was the nickname for her and her best friends Emily and Casey. Recently they'd lost Melissa, the other member of their special group. They'd all met years ago on summer vacation at the Gingerbread Inn in Massachusetts and the nickname had stuck. Their families had continued to meet there every summer and the girls had become fast friends, a bond that had lasted to this day. But with Melissa gone, Andrea couldn't handle any more sadness thinking about that. Instead she concentrated on getting the small shop ready for customers. Her mom would be over later in the day to help. Throughout the holidays Andrea opened up at nine-thirty rather than ten, and closed at eight rather than six. It was almost opening time now. She ran the vacuum over the carpet and watered the pots of red poinsettias placed around the room among all the wooden objects displayed. The thoughtful manager of the floral shop next door had sent a centerpiece featuring white Asiatic lilies and red roses. Andrea set it on the counter. With the profusion of lights and decorations, she had to admit it looked like a fairyland. Before she unlocked the front door, she went into the office in back and checked her emails on the computer. To her astonishment she saw a message from gingerbread3. That was Casey Caravetta's user name. Since Andrea was the youngest, her email was gin-gerbread4, Emily was 1, and Melissa's had been 2. What a coincidence! She'd just been thinking about her friends. Andrea prayed this was good news, the kind she wanted to hear from Casey, who'd lived through a broken engagement a year ago and was still down from it. Andrea opened the message. Hey, Andrea, it's moi. Could you possibly drop things and drive over to the Gingerbread Inn today? I've got to talk to you. Oh, no. Things didn't sound any better for Casey since the last time they'd talked. One of my issues is I'm up in the air about Christmas and the problems with my family (as always). Casey was at the inn now? In winter? I came to our favorite place because it seemed to work such magic for Emily, but I can't believe what it's like here. You should see how run-down it is. I could cry. The three of them had suffered thinking of it gradually deteriorating. As you know, Carol's always been like a mother to all of us and is taking great care of me. She's such a sweetheart. So's Harper, who lies at my feet and looks up at me with those soulful puppy eyes. Warm memories of bygone days flooded Andrea. Throughout their youth they'd had marvelous times together with no hint of what lay in store for them beyond the horizon of Barrow's Lake. I'd give anything if you'd join me. You're not that far away from Barrow's Cove. I realize how busy you are at the shop this time of year, but I need you and your wisdom, especially after what you've been through. Andrea didn't have any wisdom. She was an empty vessel. Let me know if you can make it, even if it's only for one night. Remember when we talked about giving a party at the inn on Christmas Eve so Emily and Cole can renew their wedding vows? This would be the perfect time to formalize our plans. So see what you can do to get away. Love ya, Casey. Andrea closed the message and left the office to open the door to the shop. She glanced at the Advent calendar hanging on the wall, one of several dozen with chocolate tokens in each window. Luckily it was Wednesday--not the weekend, which was their busiest time. The inn on Barrow's Lake outside Barrow's Cove, Massachusetts, was only an hour away from Providence. If she left after her mother came over, she could spend the night with Casey and drive home tomorrow in time to relieve her mom by afternoon. She checked the weather app on her phone. No new storm systems right now. Though they'd had snow in the Northeast, most of the main roads had been plowed. It wouldn't take any time to pack for one overnight. Andrea had already decided which nutcrackers she would give her friends for Christmas. All she had to do was wrap them and take them with her. She could give them out at the party on Christmas Eve. During her musings an elderly gentleman walked into the store. It activated some Christmas chimes. When he said he wanted to browse, she used that time to phone her mom. As soon as she told her about the email, her mom told her to go for several days if she wanted, accusing her of never taking a vacation. Andrea loved her mother, but told her she needed only one night. In truth she didn't like being away from the shop. It kept her going. Too much free time and she started to think about things that dragged her down to despair. None of that this year! She got back on the computer and sent Casey a message that she was coming. Then she gift wrapped a smoker for her customer. After taking his credit card information, she handed him his package. That was when she saw a tall, striking male, maybe thirtyish, standing outside the window wearing a bomber jacket. He was carrying a blonde girl of five or six in his arms so she could see everything. Loving the girl's animation, Andrea walked over to the window to watch. The child was pointing at the gingerbread boy, her face and eyes beguiled by him. Closer now, Andrea could see she wore a pink parka with a hood lined in fur. It had fallen back to reveal her soft golden curls that fell to her shoulders. Against the bright pink color, the man's short cropped jet-black hair stood out. With brows the same color, he was darkly attractive. His lean chiseled jaw had that five-o'clock shadow that looked good only on a certain type of male. When the little girl laughed at the antics of the drummer elf, the lines of his hard mouth broke into a half smile, causing Andrea's breath to catch. She had the strongest suspicion he didn't laugh often. Suddenly his gaze shifted to Andrea's, as if he could read her mind and didn't like it. Completely embarrassed and shaken to be caught staring at him, she walked back to the counter. That was the first time anything like that had happened since Gunter's death. There'd been plenty of attractive men coming in and out of the shop since her return from Germany, but they weren't in this man's class. A second later she heard the chimes again before the charismatic man approached her. The girl walked at his side, clinging to his hand. With those light green eyes, they had to be father and daughter, although his were more hazel in color and a deeper hue. "Good morning. May I help you?" "I hope so," Rick Jenner said to the blonde saleswoman. "Do you have a set of animated elves like the one in the window?" "Right over here on this table." She walked to it and picked up a box. When she put it on the counter, his daughter stared at him with imploring eyes. "Will you ask her if I can hold the gingerbread man, Daddy?" "No, Tessa. It's too expensive." Excerpted from Marry Me under the Mistletoe by Rebecca Winters All rights reserved by the original copyright owners. Excerpts are provided for display purposes only and may not be reproduced, reprinted or distributed without the written permission of the publisher.