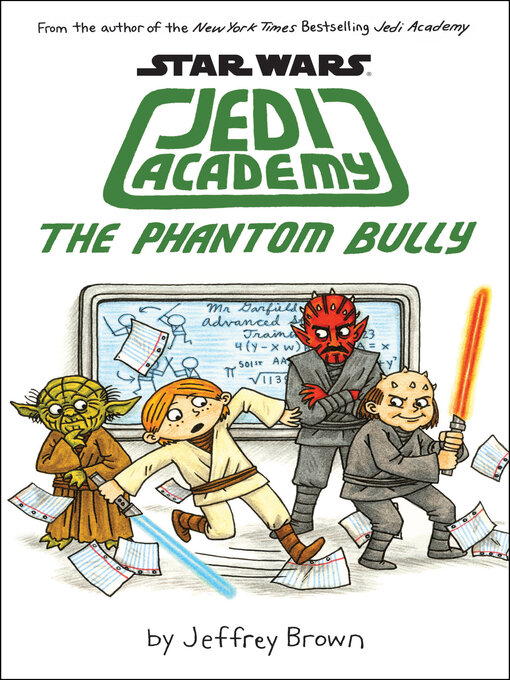 Subject:
Comic and Graphic Books
Juvenile Fiction
Science Fiction
Description:
Author/illustrator Jeffrey Brown returns for the third installation of the NY Times Bestseller Star Wars: Jedi Academy!
Publisher:
Scholastic Inc.
Digital Format:
Open in browser
Kindle
Summary
Award-winning author/illustrator Jeffrey Brown returns for the third installation of the NY Times Bestseller Star Wars: Jedi Academy!It's hard to believe this is Roan's last year at Jedi Academy. He's been busier than ever learning to fly (and wash) starships, swimming in the Lake Country on Naboo, studying for the Jedi obstacle course exam, and tracking down dozens of vorpak clones--don't ask. But now, someone is setting him up to get in trouble with everyone at school, including Yoda. If he doesn't find out who it is, and fast, he may get kicked out of school! Why can't middle school just be easy. . . This incredible, original story captures all of the humor, awkwardness, fun, and frustrations of middle school--all told through one boy's comics, journal entries, letters, sketches, e-mails, and more.
Author Notes
Jeffrey Brown was born in Grand Rapids, Michigan in 1975. While earning a MFA from the School of the Art Institute of Chicago, he abandoned painting and began drawing comics. His first autobiographical book, Clumsy, was published in 2001. His other works include Unlikely, AEIOU, Every Girl Is the End of the World for Me, Little Things, Funny Misshapen Body, Bighead, Darth Vader and Son, Vader's Little Princess, and the Star Wars: Jedi Academy series. He won an Ignatz Award for Outstanding Mini-Comic in 2003 for I Am Going To Be Small. In 2014 his title Return of the Padawan made The New York Times Best Seller List. He also directed an animated video for the band Death Cab For Cutie
(Bowker Author Biography)
School Library Journal Review
Gr 5 Up-In this third installment of the series, middle school student Roan Novachez is returning to the Jedi Academy for his final year of Padawan training. This year each student gets a Jedi mentor. Like his peers, Roan has to hone his Jedi skills, perform in a class talent show, and complete a Padawan Obstacle Challenge Trial and a Jedi Labyrinth Trial. Brown illustrates this story in the form of diary entries, which include newsletter snapshots, class schedules, report cards, notes, holomail, and holobook chat discussions. VERDICT Star Wars fans will enjoy this latest volume, especially when Roan challenges bully Cronah in a lightsaber duel. Recommended.-Lisa Gieskes, Richland County Public Library, Columbia, SC © Copyright 2015. Library Journals LLC, a wholly owned subsidiary of Media Source, Inc. No redistribution permitted.
Horn Book Review
In his third year at Jedi Academy Middle School, Roan's days are busy. He has his first date with Gaiana, endures a spate of pranks, takes a field trip to Coruscant, survives the Obstacle Challenge Trial, and manages to graduate. Although the story lacks much depth, series fans will enjoy reuniting with Roan's classmates and teachers through his journal entries, cartoons, and "holomails. (c) Copyright 2016. The Horn Book, Inc., a wholly owned subsidiary of Media Source, Inc. No redistribution permitted.
Kirkus Review
Perhaps playing off the principle that a great ending will mitigate almost anything, this story has at least a dozen endings, and all of them are pretty spectacular. It ends with a kiss, of course. The third graphic novel in the Jedi Academy series turns out to be a love story, although it takes the characters a while to realize it. At the beginning of the school year, Roan is still in denial, muttering, "Well, sort of. I don't know if she's my GIRLFRIEND exactly." (It doesn't help that other students call Gaiana and Roan "Groan.") But by the close of this high jinks-filled year, every student at the academy gets a satisfying ending, even the bullies and troublemakers. Their End-of-the-Year Awards tell us how much they've changed, or failed to change. The honors include "Cuddliest," "Future Sith Lord," and "Most Surprising." Roan, who's training to be a pilot, is "Highest Flying." It's worth noting that this book has some of the best jokes in the series (the terrible school cook says, "Meat is vegetables, right?") and a few of the worst (an assigned book is called Charlie and the Droid Factory). Roan gets the best ending of all. It's a small panel that shows him looking out into space, thinking about homeor maybe adventures in a galaxy far, far away. Everybody's middle school years should be as ultimately satisfying as Roan's, whether they are Jedis-in-training or not. (Graphic fantasy. 8-12) Copyright Kirkus Reviews, used with permission.
Booklist Review
It's Roan's last year at Jedi Academy, and he wants to make sure he does everything right this time. So far, things are looking rosy: he's spending a lot of time with his crush, Gaiana; he's got a great group of best friends; and he's been working really hard on all his assignments. But he's matched up with Mr. G, the toughest teacher in school, for his independent study on flight training, and he's sure Cronah is behind a series of major pranks, even though he can't manage to catch him in the act. While Roan tries to decipher Mr. G and his enigmatic Hmph and feels anxious about passing his two final assignments, he and his friends gradually discover who's behind the pranks, all while steering clear of the dark side. As usual in Brown's best-selling series, Roan's journal entries are charmingly full of comical cartoons, caricatures of his teachers, and authentically middle-school-esque musings on his worries and victories. Perfect for fans of Wimpy Kid, or any other illustrated middle-grade series, for that matter.--Hunter, Sarah Copyright 2015 Booklist
OVERDRIVE:2183b620-0d18-4646-bfda-b2fa0c54d3f2