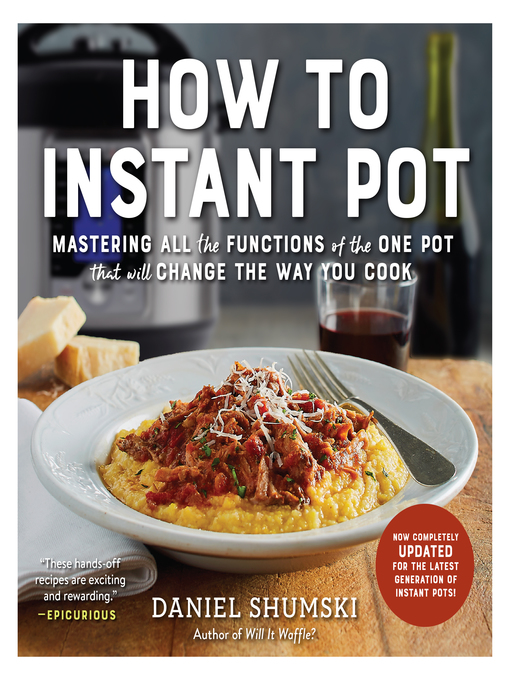 Title:
How to Instant Pot
Mastering All the Functions of the One Pot That Will Change the Way You Cook
Description:
Legions of home cooks are falling in love with the Instant Pot multipurpose pressure cooker, which does the work of a slow cooker, pressure cooker, rice cooker, yogurt maker, sauté pan, steamer, and chafing dish all in one. This collection of 100 easy, creative, boundary-pushing recipes makes ultimate use of this amazing and increasingly popular contraption. The only Instant Pot cookbook organized by function, with detailed instructions for mastering each, How to Instant Pot features dishes from satisfying breakfasts through tempting desserts, plus skill-building recipes that offer simple methods for basic dishes (Chicken Soup 3 Ways, No-Stir Polenta 3 Ways, Sweet Yogurt 3 Ways) and surprising hacks that make this already remarkable gadget even more indispensable. Hard-boil an egg in 5 minutes? Yup. Bake a potato in half the time? You bet. Quick pickle some veggies? Why not. Want to know how to Instant Pot? This book is all you need.
Publisher:
Workman Publishing Company
Digital Format:
Adobe EPUB
HTML
Kindle
Summary
Demystifying the revolutionary appliance one function at a time.

Cooking in an opaque, sealed container with complicated buttons and lights requires a culinary leap of faith--or an expert guide like Daniel Shumski. In How to Instant Pot , he not only teaches you how to master each of this miracle device's key functions, but offers more than 100 recipes specially crafted to take advantage of its many virtues. Plug it in and don't look back!

Includes recipes for: Beef Barbacoa Tacos Lemon-Chocolate Bread Pudding French Onion Soup Tender Pressure-Cooker Pork Shoulder And much, much more--plus helpful tips on converting your favorite recipes for the Instant Pot!

Author Notes
Daniel Shumski, author of Will It Waffle? and Will It Skillet! , is a writer and editor who has hunted ramen in Tokyo for the Washington Post and tracked down ice cream in Buenos Aires for the Los Angeles Times . He lives in Montreal.


Publisher's Weekly Review
Cooking-appliance expert Daniel Shumski (Will It Waffle?, Will It Skillet?) turns his attention to the Instant Pot in this collection of more than 100 recipes. Other books devoted to the Instant Pot emphasize its multiple functions, but Shumski focuses on two that users will likely use most often: pressure cooking and slow cooking, with a few recipes for maximizing the device's rice-steaming and yogurt-making settings thrown in. Readers will appreciate Shumski's practical approach, with recipes for Korean-style short ribs with garlic and ginger; brown rice with sesame oil; and a DIY crème fraîche. Some recipes, however, take longer in the Instant Pot than they do by traditional methods: Shumski's meatloaf, for example, takes over four hours to prepare; a cheese fondue takes 45 minutes and calls for a pound of Velveeta. Readers will also appreciate Shumski's thoughtful instructions on yogurt troubleshooting and the art of rice making, as well as his discussion of the unique qualities of the Instant Pot. Those on the fence about purchasing the appliance would do well to give the book a look, and those who already have Instant Pots will find Shumski's guide useful. (Oct.) © Copyright PWxyz, LLC. All rights reserved.
Library Journal Review
In his finest cookbook to date, Shumski (Will It Skillet?) demystifies the Instant Pot, a multifunction electric appliance that can act as a pressure cooker, slow cooker, yogurt maker, steamer, and more. He thoroughly explains how to operate, clean, and troubleshoot the machine, and then shares 100-plus recipes showcasing its versatility. The prospect of being able to cook dried beans and tough cuts of meat in mere minutes will prove irresistible to many readers. Dishes such as no-stir risotto, Korean-style short ribs with garlic and ginger, split pea soup, and creme fraiche were developed for six-quart models, specifically IP-DUO60 and IP-DUO Plus60. VERDICT This approachable title reveals a path to faster, less laborious meals. Highly recommended for students, small apartment dwellers, busy professionals, and anyone interested in fast, mostly hands-free cooking. © Copyright 2017. Library Journals LLC, a wholly owned subsidiary of Media Source, Inc. No redistribution permitted.