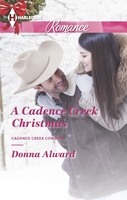 Title:
A Cadence Creek Christmas
Description:
It's Christmas in Donna Alward's Cadence Creek...Taylor Shepard has come to Cadence Creek to organize her brother's Christmas wedding. Organizing such a special event might be a little bit stressful--but she can't deny she's swept away by the town's holiday charm...and by brooding rancher Rhys Bullock.Loner Rhys has been burned far too many times in the past. He's sure he has city girl Taylor all figured out--she'll be hightailing it straight back to the city in a few days! But as the snow starts to fall, Rhys and Taylor embark on a tentative winter romance. Could Taylor be the Christmas present Rhys never even knew he wanted?
Publisher:
Harlequin
Harlequin Romance
Digital Format:
Adobe EPUB
HTML
Kindle
Summary
It's Christmas in Donna Alward's Cadence Creek...

Taylor Shepard has come to Cadence Creek to organize her brother's Christmas wedding. Organizing such a special event might be a little bit stressful--but she can't deny she's swept away by the town's holiday charm...and by brooding rancher Rhys Bullock.

Loner Rhys has been burned far too many times in the past. He's sure he has city girl Taylor all figured out--she'll be hightailing it straight back to the city in a few days! But as the snow starts to fall, Rhys and Taylor embark on a tentative winter romance. Could Taylor be the Christmas present Rhys never even knew he wanted?
Excerpts
Taylor Shepard frowned as she assessed the lineup of men before her. All five of them were big, burly and, with the exception of her brother Jack, looked irritated beyond belief. "Come on, Taylor, can't we take these monkey suits off?" Her oldest brother, Callum, pleaded with her. Along with his best man and groomsmen, he'd spent the past half hour trying on various tuxedo styles. Callum, being her brother and, of course, the groom, was the spokesman for the lot. "If you want to show up at your wedding in jeans and boots, be my guest. I don't think your bride would appreciate that too much, though." A muffled snort came from down the line. Her head snapped toward the sound and she saw one of the groomsmen--Rhys, if she remembered correctly--struggling to keep a straight face. "Keep it up," she warned severely, "and you'll be the one trying on a cravat." His face sobered in an instant. "This was supposed to be a small and simple wedding," Callum reminded her. "Not one of your massive events." "And it will be. But small and simple doesn't mean it can't be classy." She pinned him with a stare. "Your soon-to-be wife trusts me. Besides, you need to balance your look with the wedding dress and flower girl dress for Nell." She paused and played her trump card. "They're going to be beautiful" There'd be little argument out of Callum now. All it took was the mention of Avery and his baby daughter and the tough ex-soldier turned into a marshmallow. She thought it was fantastic. He'd needed someone like Avery for a long time. Not to mention how fatherhood had changed him. He had the family he'd always wanted. She examined each man carefully. "I don't like the red vests," she decreed. She went up to Sam Diamond and tugged on the lapels of his jacket. "And not double-breasted. The green vests, like Tyson's here. The single-breasted jacket like Jack has on, which is much simpler." She smiled up at her brother, easily the most comfortable man in the group. Jack wouldn't give her a moment's trouble, not about this anyway. She got to the last body in the line and looked up. Dark eyes looked down into hers. A little serious, a little bit of put-upon patience, and a surprising warmth that made her think he had a good sense of humor. She reached up and gave his tie a tug, straightening it. "And not the bolo tie, either. The crossover that Rhys is wearing is classier and still very Western." Her fingertips grazed the starchy fabric of his shirt as she dropped her hand. It was a negligible touch, barely worth noticing, except the slight contact made something interesting tumble around in her stomach. Her gaze darted up to his again and discovered he was watching her steadily in a way that made her feel both excited and awkward. Interesting. Because in her line of work she dealt with all sorts of men every day. Rich men, powerful men, men who liked other men and men who couldn't keep their hands to themselves. She knew how to handle herself. Was never tempted to flirt unless it was a business strategy. She was very good at reading people, figuring out their tastes and wants and knowing what methods she needed to use to deliver them. So getting a fluttery feeling from barely touching Rhys Bullock was a surprise indeed. And feeling awkward? Well, that was practically unheard of. Of course, it could be that she was just very out of practice. She'd been far too busy building her business to do much dating. She straightened her shoulders and took a step backward. "Okay, now on to footwear." Groans went up the line. She smiled. "Guys, really. This will be the best part. I was thinking black boots which we can get wherever you prefer to buy your boots. No patent dress shoes. Put on the boots you wore here so we can accurately measure your inseam for length. Then we'll finish up your measurements and you're done." She made a dismissive sound. "Honestly, what a bunch of babies." She was having fun now, teasing the guys. They were good men but not much for dressing up. She got that. Their standard uniform was jeans and boots, plaid shirts and Stetsons. Tuxedo fittings had to be torture. Still, it didn't matter if this was her brother's wedding or a client's A-list party. Or if she was being paid or doing it as a wedding gift. Avery and Callum's day would be exactly what it should be because she'd oversee every last detail. And if she were being honest with herself, it was a relief to get out of Vancouver for a while and deal with "real" people. It had been exhausting lately. Most of her clients were rich and used to getting exactly what they wanted exactly when they wanted it. Their sense of entitlement could be a bit much. Not to mention the unorthodox requests. She sometimes wondered what sort of reality these people lived in. As she looked after the ordering details, one of the alterations staff did measurements. Another half hour and they were all done and standing out in the sunshine again. Taylor pulled out her phone and scanned her to-do list for today. She had to drive back to Cadence Creek and meet with Melissa Stone, the florist at Foothills Floral. The final order was going to be placed today--after all, the wedding was less than two weeks away now. All this should have been done a month ago or even more, but Taylor knew there were ways to get things done in a hurry if needs be. Like with the tuxes and invitations. Both should have been tended to months ago but it had merely taken a few phone calls and it had all been sorted. A little out of Callum's budget, perhaps, but he didn't need to know that. She was good for it. Exclusive!--her event planning business--had treated her well the past few years. Still, there was no time to waste. She closed her calendar and looked up. The group of them were standing around chatting, something about a lodge north of town and what had happened to the rancher who'd owned it. Jack was listening intently, but Rhys was missing. Had he left already? The bell on the door chimed behind her, and she turned to see Rhys walking through. He looked far more himself now in black jeans and a black, tan and red plaid shirt beneath a sheepskin jacket. His boots were brown and weathered and as he stepped on to the sidewalk he dipped his head just a little and placed a well-worn hat on top. Taylor half smiled. The hat looked like an old friend; shaped precisely to his head, worn-in and comfortable. "Feel better?" she asked, smiling. "I'm not much for dressing up," he replied simply. "I know. None of you are, really. But it's only for one day. You're all going to look very handsome." "Is that so?" Her cheeks heated a little. Rhys's best feature was his eyes. And he was tall and well-built, just the way she liked her men. Perhaps it was growing up the way she had. They'd all been outdoor kids. Heck, Callum had joined the military and Jack had been a pro downhill skier until he'd blown his knee out at Val d'Isere. But Rhys wasn't classically handsome. Not in the way that Tyson Diamond was, for instance. In this group Rhys would be the one who would probably be overlooked. His cheekbones were high and defined and his jawbone unrelenting, giving him a rough appearance. His lips looked well-shaped but it was hard to tell--the closest she'd seen him come to smiling was the clandestine chuckle while they were inside. But it was the way he'd answered that piqued her interest. Is that so? he'd asked, as if he couldn't care one way or the other if anyone thought him handsome or not. It was quite refreshing. "I should get going," she said, lifting her chin. "I've got to be back to town in thirty minutes for another appointment. Thanks for coming out. It'll be easy for you from here on in. Weddings do tend to be mostly women's business." At least with these sorts of men… "Drive carefully then," he said, tipping his hat. "No sense rushing. The creek isn't going anywhere." "Thanks, but I'd like to be on time just the same." She gave him a brief nod and turned to the assembled group. "I've got to go. Thanks everyone." She put her hand on Callum's shoulder and went up on tiptoe to kiss his cheek. "See you soon." She did the same for Jack. "When are you flying out?" He shrugged. "I'm going to hang around for a few days. I've got to be back in Montana for meetings on Monday, though, and then I'm flying in the Thursday before the wedding." "Let's have lunch before you go back." "You got it. Text me." With a quick wave Taylor hurried across the parking lot, her heeled boots echoing on the pavement. She turned the car heater on high and rubbed her hands together--December in Alberta was colder than on the coast and she felt chilled to the bone all the time. She was down to twenty-five minutes. As a light snow began to fall, she put her rental car in gear and pulled out, checking her GPS for the quickest route to the highway. Three weeks. That was how long she had to decompress. She'd take care of Callum's wedding and then enjoy one indulgent week of vacation before heading home and working on the final preparations for New Year's. This year's planning involved taking over an entire warehouse and transforming it into an under the sea kingdom. It all seemed quite ridiculous. And because it did, she knew that it was time she took a vacation. Even one as short as a week in some small, backwater Alberta town. Thank goodness her assistant, Alicia, was completely capable and could handle things in Taylor's absence. She turned on the wipers and sighed. Compared to the crazy demands of her normal events, she knew she could do this wedding with her eyes closed. If that were true, though, why was she having so much fun and dreading going back to Vancouver so very much? It was already dark when Taylor whipped out her phone, brought up her to-do list and started punching in brief notes with her thumbs. Her fingers were numb with cold and she'd been out of the flower shop for a whole minute and a half. Where on earth was the frigid air coming from anyway? Shivering and walking toward the town's B&B, she hurriedly typed in one last detail she didn't want to forget. Instead of typing the word "cedar," however, she felt a sharp pain in her shoulder as she bounced off something very big and hard. "Hey," she growled. "Watch where you're going!" She looked up to find Rhys Bullock staring down at her, a scowl marking his angular face. "Oh, it's you," she said, letting out a puff of annoyance. He knelt down and retrieved her phone, stood up and handed it over. "Hope it didn't break," he said. His tone suggested that he wasn't quite sincere in that sentiment. "The rubber cover is supposed to protect it. It'll be fine." "Maybe next time you should watch where you're going. Stop and sit down before you start typing." "It's too damn cold to stop," she grumbled. He laughed then, the expulsion of breath forming a white cloud around his head. "Not used to an arctic front? This isn't cold. Wait until it's minus forty." "Not a chance." "That's right. You're only here for the wedding." "If you'll excuse me, I'd like to get out of the cold before my fingertips fall off." She tried to ignore how his face changed when he laughed, softening the severe lines. A smattering of tiny marks added character to his tanned skin. If she had to come up with one word to describe Rhys, it would be weathered. It wasn't necessarily a bad thing. He took a step closer and to her surprise reached into her pocket and took out her gloves. Then he took the phone from her hands, dropped it in the pocket and handed over the gloves. "This will help." She raised an eyebrow. "That was presumptuous of you." He shrugged. "Ms. Shepard, I'm pretty much used to keeping things simple and doing what has to be done. If your fingers are cold, put on your gloves." She shoved her fingers into the fuzzy warmth, her temper simmering. He spoke to her as if she were a child! "Now," he said calmly, "where are you headed? It's dark. I'll walk you." Her temper disintegrated under the weight of her disbelief. She laughed. "Are you serious? This is Cadence Creek. I think I'll be safe walking two blocks to my accommodations." Good Lord. She lived in one of the largest cities in Canada. She knew how to look out for herself! "Maybe I just want to make sure you don't start texting and walk out into traffic," he suggested. "You must be going to Jim's then." He named the bed and breakfast owner. "That's right." He turned around so they were facing the same direction. "Let's go," he suggested. Excerpted from A Cadence Creek Christmas by Donna Alward All rights reserved by the original copyright owners. Excerpts are provided for display purposes only and may not be reproduced, reprinted or distributed without the written permission of the publisher.